What do these books all have in common?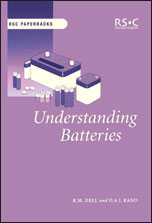 They are all available online from the Royal Society of Chemistry (RSC) eBook Collection.
The collection contains the full-text of over 800 books spanning 40 years of chemical sciences — with a very broad definition of chemical sciences. Subject areas include environmental, food, biomolecular, materials, and industrial chemistry as well as the more traditional organic, inorganic and physical chemistry. The collection is continually updated and is fully searchable and indexed to chapter level, with all documents provided as PDFs. It is easy to search or browse the collection. Give it a try, you are sure to find something that interests you.
Please note that our license agreement allows users to download a small portion of a book (e.g. a chapter), but not an entire book. Access is not available yet through our library catalog so you must go to RSC's web site in order to discover and view items of interest.